Thanks to our generous donors and wonderful volunteers, the LATA Foundation is proud to continue working with these awe-inspiring projects in 2022
Empowering Women
XtraOrdinary Women (Nicaragua)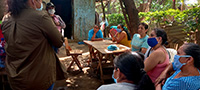 XtraOrdinary Women have been working to empower women through financial independence since 2009, and were inspirational in the way they adapted this much-needed support during pandemic lockdowns. In 2021, despite many pandemic-related challenges, they grew their Managua-based programme to include artisans in Masaya and the hurricane-hit, coastal town of Bilwi. The LATA Foundation is proud to have supported XtraOrdinary Women through the last two years as their 'Bootcamps' and mentoring supported 65 disadvantaged women and their families. In 2022 we are contributing towards another exciting 'Bootcamp' programme working with 40 women from Managua.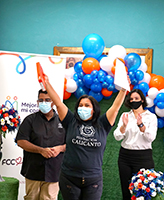 Fundación Calicanto (Panama) The LATA Foundation has supported Fundación Calicanto's CAPTA programme since 2015. Before the Covid-19 pandemic, this well-established seven-week course had mentored approximately 1500 disadvantaged women in life skills and employability. This included two weeks work experience in hospitality, usually in local partner hotels. Successful graduates were also helped to find meaningful employment. When lockdowns made running the course impossible, and jobs in tourism dried up, it was successfully adapted to teaching entrepreneurial skills instead. During this time the LATA Foundation donated funds through Calicanto to assist some of the most vulnerable in their community financially, and in 2021 supported eight women through the adapted CAPTA course. In 2022 we have committed to sponsoring another eight women.
Healthcare
Healing Venezuela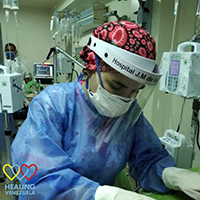 Working closely with medical partners throughout Venezuela, Healing Venezuela strives to maintain medical services. Alongside local teams, they work to ensure the availability of medical equipment, personnel and specialist knowledge as the humanitarian crisis there deepens. During the first wave of the pandemic, the LATA Foundation contributed towards PPE. In 2021 we supported Healing Venezuela in providing stipends for junior doctors, paid to encourage them to stay in the country despite the poor working conditions and a paltry salary of between $8 and $15 per month. For 2022 we will continue to support 25 doctors in this way.
Wildlife and Conservation
Kids Saving the Rainforest (Costa Rica)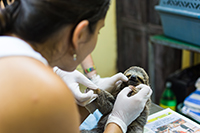 Originally founded by two nine-year-old girls, Kids Saving the Rainforest (KSTR) has grown into both a sanctuary for injured and orphaned animals; and a conservation organisation leading research into releasing animals back to the wild. Over the last seven years, the LATA Foundation has supported the release of a group of squirrel monkeys, the tracking of newly-released sloths, and the reforestation of donated land. During the worst of the pandemic, KSTR was forced to scale back its work significantly due to a lack of income, and our recent donations went towards ensuring the animals still in their care could be fed and looked after. As their situation improves, KSTR is now focusing on building a nursery designed to best prepare their young animals for returning to the wild. Our 2022 donation will go towards equipping the nursery. We are grateful to Latin Routes for working with us on this.
Cristalino Foundation (Brazil)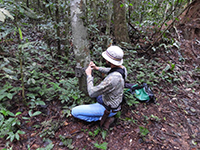 The LATA Foundation first worked with Cristalino Foundation after the terrible Amazon fires of 2019. We provided four camera traps to help record and monitor the wildlife in the vicinity of Alta Floresta with the dual aims of learning more about the primary forest, and identifying future conservation needs. We also committed to funding 'A Day in the Forest' workshops for local children, to help create awareness of the importance of the rainforest. Following a delay due to the pandemic, the cameras were finally installed at the beginning of 2022 and we wait excitedly to see what they reveal. Volunteers helping with 'A Day in the Forest' have also now been trained and these workshops are scheduled to restart in April.
Education
Condor Trust (Ecuador)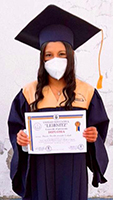 Condor Trust aims to break the cycle of poverty by encouraging disadvantaged children and young people to attend secondary school. Over 100 young people have benefited from their support so far. Participants are not chosen based on academic achievement but many continue on to tertiary education. As well as covering the costs of uniform, books, travel and paying the family a small stipend, the trust also ensures the children have access to services such as eye tests and provide glasses when needed. Extra-curricular activities such as music are also encouraged. Throughout lengthy lockdowns, the LATA Foundation worked with Condor Trust to ensure their students had the tools they needed to continue their studies remotely including laptops, access to the internet and food. In 2022 we will continue to support six students.
Abriendo Mentes (Costa Rica)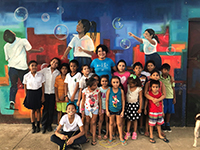 Abriendo Mentes works in two communities in Guanacaste to improve access to meaningful employment. Over the last five years, the LATA Foundation has supported them to improve general literacy, and teach English and IT skills to children and young people. During lockdowns and school closures, as well as ensuring that children were still able to continue learning on and off-line, the LATA Foundation assisted Abriendo Mentes in providing food parcels to the local community and running workshops for women. In 2021 Abriendo Mentes were gifted a new building and land by a generous local benefactor, allowing them to expand their programme. LATA Foundation is now helping to equip this new centre with essentials such as air-conditioning, internet connection, computer monitors and a printer. We are also supporting environmental education activities.
El Rio Foundation (Colombia)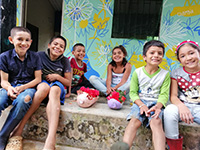 LATA Foundation worked with El Rio Foundation for the first time last year. Based in the jungle area of Buritaca, close to Tayrona National Park, this community project strives to both improve the opportunities for local people and encourage conservation of the natural environment. In 2021 the LATA Foundation helped El Rio establish an English language course, which successfully went ahead once restrictions were lifted. In 2022 we are supporting them to provide general tutoring, at two bases, for children who have missed many months of schooling due to the pandemic, as well as to further develop their community English course. Our donation will go towards the costs of the tutor, student welfare, and classroom equipment such as a blackboard, and tables and chairs.
Young People
Friends of Alalay (Bolivia)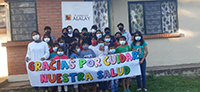 Friends of Alalay supports the Alalay Foundation's work with street children in Santa Cruz. This includes a home, where 70 children are given a sense of belonging and love, as well as being fed, clothed and educated. The LATA Foundation has worked with Friends of Alalay for over 10 years assisting with building maintenance, providing basic medical equipment, supporting a quail farm to generate income and during the pandemic, providing additional cleaning materials and PPE. For several years we have also been providing scholarships for young people to undertake vocational training, with the aim of providing them with the skills to gain meaningful employment and a way out of street life. For 2022 we continue to assist Friends of Alalay with additional expenses related to Covid-19, and have provided a further four scholarships.
Projeto Vidançar (Brazil)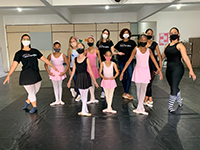 Based in Complexo do Alemão favela, Rio de Janeiro, Projeto Vidançar started in 2009 as an initiative to offer underprivileged children a chance to learn ballet. Their format also encourages the building of self-esteem and social skills, and rewards good school attendance. Although the neighbourhood has a reputation for violence, the classes have been hugely popular with over 200 children now regularly attending. Standards are high, and students are regularly accepted into national ballet schools including the Brazilian outpost of the Bolshoi and Rio's Teatro Municipal Ballet School. Despite losing most of their local funding, classes and mentorship continued throughout the pandemic, often online. Recent sponsorship by Petrobras has given the project more financial security and allowed Vidançar to increase its level of pastoral support to also include help with literacy. Aided by Las Iguanas restaurants, the LATA Foundation has supported Vidançar for eight years and we are delighted to see them move to this new phase. Our 2022 donation has helped develop a new ballet project in Bahia and financed a sewing course for students' mothers designed to assist families to generate income.