In 2020, the LATA Foundation will be supporting ten core projects across Brazil, Ecuador, Costa Rica, Peru, Venezuela, Nicaragua and Guatemala.
Core projects for 2020 include:
Sinal do Vale
Located in Duque de Caxias, Brazil, around 50km from Rio de Janeiro, Sinal do Vale is a Brazilian NGO which focuses on the regeneration of ecosystems. Their projects include reforestation programmes, creating eco-gardens, nature-based education in local schools and community-based solutions to address issues such as sanitation and waste management in low-income neighbourhoods.
The LATA Foundation will support Vila Limpa ("clean village"), a new initiative which focuses on appropriate waste management to help protect the fragile local environment in the neighbourhood of Santo Antonio. The project includes the construction of five recycling points and support with rubbish collections in partnership with a local recycling cooperative, and an educational programme for the community to ensure they are informed and engaged about the initiative. The project aims to improve the quality of life and health of the Santo Antonio community where 4000 tonnes of waste is produced each month.
Kids Saving the Rainforest (KSTR)
Located close to Manuel Antonio National Park in Costa Rica, KSTR is committed to conservation through reforestation (24,000 trees planted to date), a wildlife rescue and rehabilitation sanctuary, wildlife bridges crossing roads (used by 22 species), land conservation and research. KSTR has been active since 2007 and carries out intense and thorough research each year into their various release projects, from sloth, raccoon and anteater rehabilitation to researching the treatment of diseases impacting local wildlife.
In 2020, KSTR is raising money to purchase an X-Ray machine and to build, and equip, an appropriate room on their site. Having an x-ray machine on site is crucial to help save many of their animals' lives. Most of the animals they receive require an x ray, but they are currently only able to do them in a life and death situation. They have already raised money for an ambulance which will start being used in 2020, so the combination of the ambulance and x-ray machine could have potentially life-saving consequences for these animals. KSTR is open to the public and they provide fascinating and informative tours of the centre, giving tourists an insight into the problems that Costa Rican wildlife is facing.
Cristalino Foundation
The Cristalino Ecological Foundation (FEC) is situated in the municipality of Alta Floresta in the southern section of the Brazilian Amazon. The NGO is committed to conservation and the protection of the natural environment with a range of educational initiatives and programmes to monitor the biodiversity of the rainforest.
'A Day in the Forest' is a workshop created to develop local children's awareness of the forest and the importance of preservation and conservation. The workshop currently takes place once a week during term time for local schools, receiving approximately 30 children and teachers at a time with activities including nature trails and dynamic activities based around the flora and fauna of the ecosystem.
Support from the LATA Foundation will enable the Cristalino Ecological Foundation to double the number of workshops and provide funding for camera traps to monitor the biodiversity of the forest and uncover invaluable information about the primary forest to aid its protection and conservation.
XtraOrdinary Women
Based in Managua, Nicaragua, XtraOrdinary Women was established in 2009 to support women living in La Chureca, Central America's largest landfill and home to 2.000 of the nation's poorest citizens. These women had few opportunities to move off the rubbish heap that was their home, earning on average $5US per day for a 14-hour shift. The charity was founded to create a programme to train vulnerable women with the skills they need to get a job and help them find work. Since 2009, the charity has offered free job skills training programmes to women living in marginalized areas. The programme lasts for 6 weeks, followed by 6 months of support. Over the last 10 years, they have positively impacted 1000 lives, arming women with the tools and skills they need to break the cycle of poverty.
In 2019 they launched the 'XtraOrdinary Bootcamp for entrepreneurs aimed at women from marginalized areas who started small businesses out of a necessity to survive. In November 2019, they launched 'XtraOrdinary Talent'; a digital platform to promote and connect women's business-ventures with local markets. In 2020, XtraOrdinary hopes to raise funds to enrol 300 women in the XO Bootcamp. The funds donated by the Lata Foundation would provide 30 women with 130 hours of initial training followed by 3 months of personal mentoring.
Healing Venezuela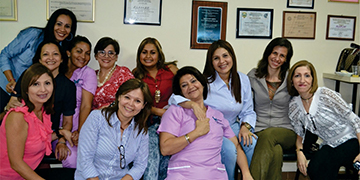 Healing Venezuela is a volunteer-run organisation which aims to alleviate the health crisis in Venezuela offering medical assistance in an impartial, neutral and compassionate way. The charity currently runs 10 programmes, one of them being a family planning and pregnancy prevention programme. The lack of deficient public policies regarding family planning in Venezuela is a reality and teenage pregnancy is one of the biggest social and health problems in the country. With the worsening crisis in Venezuela, women are particularly vulnerable and their rights are not sufficiently protected by the government.
Funds provided by the LATA Foundation will be used to provide safe methods of contraception alongside an educational programme.
Mayan Midwifery International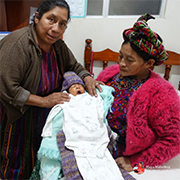 Based in Quetzaltenango, Guatemala, Mayan Midwifery International provides medical equipment for traditional midwives serving rural communities. The equipment enables the midwives, who are often the only contact that families have with any health professionals who speak their dialect, essential services in rural areas of the highlands.
LATA Foundation funds will be used to provide basic medical equipment for 15 midwives belonging to ACAM (Association of Midwives of the Mam speaking area) which is an association of 40 midwives providing midwifery services to indigenous Mam speakers. The midwives are unique because they use a mixture of traditional Mayan and modern clinical procedures.
Abriendo Mentes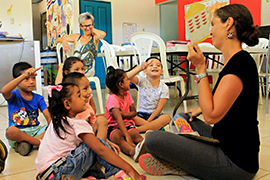 Meaning 'opening minds' in Spanish, Abriendo Mentes is a small community-based project which aims to empower individuals from two rural coastal communities in the deprived areas of Guanacaste, Costa Rica. The charity provides innovative and engaging education programmes and activities including English and computer lessons, sports, art and environmental awareness. These skills are critical in obtaining employment, particularly in the local tourism industry, which dominates the local job market. The charity has supported many young people in the Potrero and Brasilito communities with skills to equip them to work in the local tourism industry.
Funds from the LATA Foundation will go towards the youth development programme aimed at empowering young people and ultimately facilitating employment.
Condor Trust
Based in Quito, Ecuador, the Condor Trust is a grassroots educational initiative enabling young Ecuadorians from low income families to attend secondary school and/ or have access to higher education. The ultimate aim is to support children and teenagers so that they can complete their education, find a job and break the cycle of poverty.
The LATA Foundation's funding helps with the provision of uniforms, books and school materials to enable children from low income families to attend school in the city. As well as educational support, mothers can attend sewing classes through the Condor Trust to help them have an income so it is not just the children who benefit.
Picaflor
Picalor House is a charity working in the small town of Oropesa and other villages in the surrounding rural area 25km outside of Cusco, Peru. Focusing on the creation of employment opportunities, improving educational access and performance, empowering women, supporting small business initiatives, improving health through hygiene education and broadening children's development through non-academic activities, the charity aims to provide long term solutions for the challenges faced by the community.
In 2020, LATA Foundation funding would be directed into a small farming initiative for raising guinea pigs, a traditional food eaten in Peru, to provide a thriving business initiative for local families and towards their afterschool education program.
Vidancar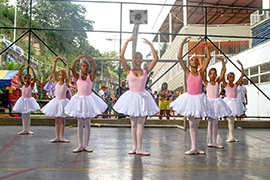 Vidarte Space has several projects to help underprivileged children from the favelas of Rio de Janerio. Their main project, the Vidancar Dance School, is located in the Complexo do Alemao favela. It began in 2009 as an initiative to offer children from the favelas the opportunity to express themselves through the art of ballet.
Around 180 children benefit from this project on a daily basis with the LATA Foundation's contribution enabling a greater number of children to enrol in the classes, taking them off the streets and bringing a new kind of fulfilment and interaction. In the last few years, some students from Vidancar have been accepted into the prestigious Bolshoi Theatre and the Municipal Theatre.