RELEASE THE SQUIRREL MONKEYS!
Five orphaned squirrel monkeys have been successfully released back into the wild in Costa Rica! Our partner, Kids Saving the Rainforest, have reported on their successful release of the endangered and recovered squirrel monkeys back into their natural habitats!
Their hard work and research has enabled them to really propel them into the world of being able to publish and help other rescue centres with similar goals.
They faced challenges along the way of the monkeys reluctant to leave the centre and discovered a way of being able to establish a 'soft release'. There were also issues around encouraging other monkeys to be 'mentors', but ultimately with care, patience and hard work the team were able to successfully release the monkeys and continue to monitor their progress in the wild.
---
Project News!
Over the past few months we have received some fantastic news regarding some of our projects who have completed their objectives with wonderful reports. A new community centre has been built in northern Argentina, a Tilapia breeding program is well under way and the rehabilitation of the squirrel monkeys has proved to be challenging but ultimately a great success. Together with the construction of temporary homes in Ecuador for the Emergency Relief campaign, we're thrilled to be able to allocate our funds to such worthy causes.
Tilapia Ponds- Guatemala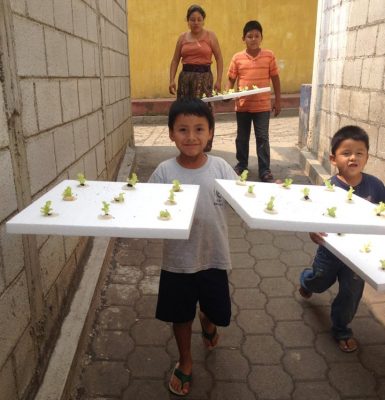 The Tilapia fish ponds that we helped construct in April in the Santa Catarina Barahona community in Guatemala through our partners New Life Line and smallchange4bigchange have recently seen their second successful harvest.  In addition they are now being used for an exciting new trial: Aquaponics.  Aquaponics combines aquaculture (raising fish) and hydroponics (the soil-less growing of plants).  The community is using floating Styrofoam boards drilled with holes which are filled with lettuce seedlings and the fish waste in the water provides an organic food source for them. We hope that this simple method which requires no extra space or work is a success, providing the families with extra food and income.
Vidarte Space, Brazil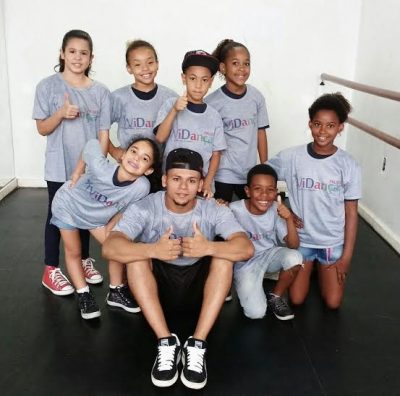 The project Vidarte located in Rio in the favela Complexo do Alemao gives underprivileged children from the favela opportunities to express themselves through different disciplines such as ballet, football, hip hop and others. With the support of Las Iguanas and the LATA Foundation in 2016 they were able to move to a larger ballet room with capacity to serve more students, now 154 boys and girls. The hip hop classes began in 2013, today they have 40 students who do the activities. At the end of the year the ballet and hip hop class give presentations to a wide audience. The ballet classes have helped some students reach a high level and develop their potential to the extent that 4 students have already been accepted with full grants at Rio's Teatro Municipal Ballet School and Bolshoi Ballet School. This is how much Vidarte has impacted these children's lives. Las Iguanas and the LATA Foundation helped fund ballet bars, mirror, professional sound, computer and students ballet uniforms. Las Iguanas and the LATA Foundation also supported the soccer workshop "Bom na Bola Bom na Escola" project which means Good with the ball good in school, as part of the requisites to attend Vidarte is having good grades. In this case 70 children were able to have footballs, furniture, uniforms and soccer cleats, allowing them to exercise and develop a team sport in a healthy environment.
Pena Morada Craft Centre, Argentina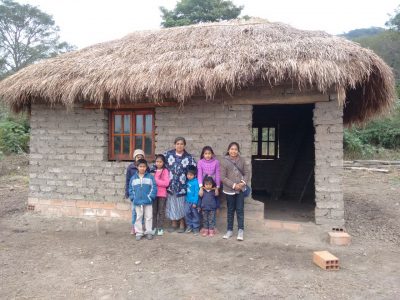 We're really pleased to say that the construction of the crafts centre at Peña Morada is now finished! These pictures demonstrate the great work that Peña Morada community has been doing for many years thanks to the continuos effort of its cacique, Doña Francisca Mendoza, always by the side of its people. The completion of this work would not have been possible without the support of the Fundación BuenaVida, The Ministry of Culture and Tourism of Salta and the  LATA Foundation. Now is the time to promote the experience of Guarani communities and bring their tourism proposals to responsible travel agencies and operators.
Would you like to help us? We will be sending you information about their tourism proposals to all you shortly, so watch this space!
---
Fundraising Heros!
2016 Brighton Marathon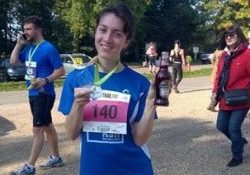 Louise Martindale has been an avid fundraiser for the LATA Foundation since 2012. She was inspired while travelling throughout South America in 2010, when she was given the opportunity to visit and film four of the LATA Foundation's projects in Peru and Argentina. Being truly inspired by the charity's work, she has since raised over £2,000 through presenting her films at fundraising events and running the Tunbridge Wells Half Marathon in 2012, and now the Brighton Marathon. The £661 she has raised from this event will go toward helping the ECOAN reforestation project, which aims to plant a million native trees in the Sacred Valley, Peru by 2020. Her hard work will enable 1100 tress to be planted! Well done Louise!
Lucy's Serpentine Swim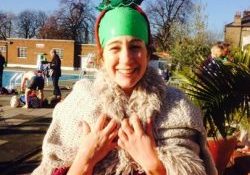 Trustee and Fundraising Team volunteer Lucy Clark entered a ballot for the Serpentine Swim on impulse, then she went and got a place. This meant she had to stop being a wimp and swim a mile in a cold, large, geese-infested pond. Luckily, on the 24th September she manned up and overcame her fears by remembering the people and habitats the LATA Foundation supports in the most vulnerable regions of Latin America, and made it across the pond without a panic attack. For her outstanding effort, the generous people of her acquaintance donated £785 which is helping impoverished and vulnerable people as we speak. Great job Lucy!
London to Brighton Cycle Ride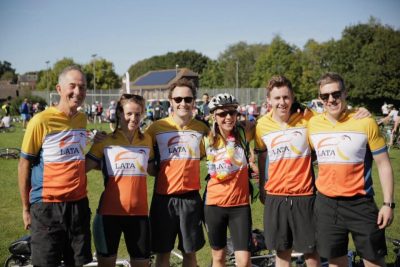 Jude Berry, Kelvin Shewry and Nicola Gude from the Projects and Fundraising teams, along with 5 other friends of The LATA Foundation, took on the challenge of cycling the 54 miles of the iconic London to Brighton route on 11th September. They joined thousands of fundraisers departing from Clapham Common to head south through idyllic British countryside to the favourite seaside town of Brighton, and were very lucky with glorious weather which helped with the morale of tackling those notorious hills along the way! They have managed to collectively raise over £3,000 which we are extremely pleased with and will be going straight to our amazing projects! Congratulations guys!!
---
Events News!
We had a fantastic sell out pub quiz again this year and with everyone's help we raised just over £2000! This money went directly to our partners Ecuador Tierra VIVA ETV to help with immediate relief effort following the earthquake in July, specifically to supply temporary and durable shelters for the 3 de Julio community where many houses have been destroyed or are too unsafe to return to. Many thanks to all that came and especially to our sponsors Air Europa as well as our prize donors Go Brazil Wines & Spirits Las Iguanas Mamacha Kathryn Cooper Jewellery Pimlico Trove thanks also to Nori Jemil Photography for the great photos!
Our Women in Travel event was also very successful, raising a grand total of £3,616.75 for our amazing causes! The attendees enjoyed a delicious lunch at Ceviche, before an inspiring and entertaining talk by last year's Strictly Come Dancing star, Katie Derham. This was all made possible with the generous support of Belmond, and the wonderful raffle prizes donated by Footprint Travel Guides, Go Brazil Wines, The BigBlue Collection, Kathryn Cooper Jewellery, Pimlico Trove, Mamacha Luxury Alpaca Knitwear & Ceviche. Thank you also to the lovely Katie Dernham who gave her time so readily to support our lunch. Until next year!
---
Competition!
We'll soon be announcing a competition to see who can individually raise the most amount of money for the Foundation. The competition will run over several months and we'll help with as many fun and interesting fundraising ideas as possible and even better…the winner will be presented with a brand new i-watch! A newsletter for the competition will be sent out very soon with these suggestions and a way to get in touch with us with your ideas! There will also be prizes for 2nd and 3rd places. Let the games commence!
---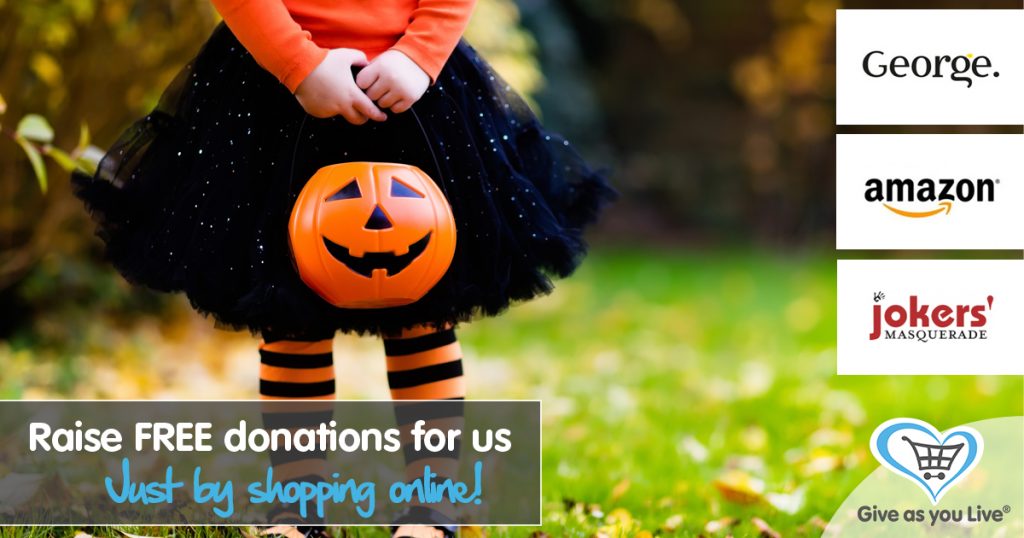 Do you want to receive the LATA Foundation Newsletter straight to your inbox? Then subscribe below!
We will never share your details with third parties