LATA Foundation celebrates Women's Day
It is now widely accepted that ensuring opportunities for women not only helps them to achieve their potential, it also tackles some of the root causes of poverty and inequality – improving the lives of women, their dependents and the local community.
On International Women's Day, the LATA Foundation is shining a spotlight on the women-focused projects in Latin America that we are proud to support.
XtraOrdinary Women – Nicaragua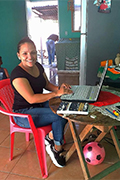 XtraOrdinary Women have been empowering disadvantaged women in Managua to achieve financial independence and break the cycle of poverty since 2009. They achieve this through skills training, psychosocial support, and job placement programs. In 2020 the LATA Foundation supported XtraOrdinary Women's first 'Bootcamp for Entrepreneurs'. The course is designed to help women who have already established small enterprises to increase their skills and become financially independent. As the pandemic took hold, the Bootcamp's original format of a one-month classroom course followed by three months of mentoring and evaluation was adapted to take place virtually through WhatsApp and Facebook – the most accessible platforms for the participants. Classes became a mixture of live-streamed and pre-filmed sessions, with group and individual follow-up. Despite the many challenges of the pandemic and lockdown, 25 of the 30 participants completed the course – a credit to everyone involved.
After graduation the LATA Foundation COVID-19 Emergency Appeal made a further donation towards the cost of face masks, cleaning kits and extra psycho-social and business support to facilitate the COVID-19 resilience of these micro-businesses and help keep the women involved safe.
In 2021 the LATA Foundation is supporting XtraOrdinary Women to run two more Bootcamps. The first is designed to help artisan micro-businesses in Masaya, and the second to assist indigenous artisans living in Bilwi in the North Atlantic Region of Nicaragua – a region devastated by Hurricanes Eta and Iota in November 2020. We are also supporting development of the XtraOrdinary Women's online platform, designed to raise the profile and sales of the micro-businesses.
Fundación Calicanto – Panama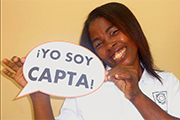 The LATA Foundation has supported Fundación Calicanto's CAPTA programme since 2014. CAPTA operates in Panama City and Colón providing selected disadvantaged women with a nine-week course designed to empower them and improve their employability.
Five weeks of classroom-based courses target personal development (including communication skills, assertiveness training, financial awareness and women's rights), as well as awareness of employment practices and law. This is followed by four-weeks of vocational training – usually within the hotel industry. Women that successfully complete the course are then assisted in finding employment or further study. A small stipend is provided throughout to facilitate women attending the course, and individualised psychological support is offered as many of the women have suffered previous personal traumas that affect their confidence and ability to learn. To date approx. 1600 women have graduated from CAPTA, with 72% subsequently gaining employment or going on to study.
During 2020, as opportunities for formal employment dramatically reduced with lockdown, the emphasis of CAPTA's courses changed to encourage entrepreneurial skills. Their alumni support network 'Connexions' also started offering virtual workshops to support course graduates who found themselves unemployed. The LATA Foundation COVID-19 Emergency Appeal contributed to seed capital given to graduates to help them set up and promote their own micro-businesses.
Calicanto are planning two more CAPTA courses early in 2021 and the LATA Foundation continues to support this fantastic enterprise.
Maya Midwifery International – Guatemala
Since 1999, Maya Midwifery International (MMI) have been supporting ACAM (Association of Midwives of the Mam Speaking Area) in the indigenous Mam-speaking communities in Quetzaltango department. These midwives have a 'calling' and train under an experienced traditional midwife for eight years. They provide essential care to pregnant indigenous women in the area who rarely engage with state-trained medical staff due to the remoteness of their communities, language barriers and cost.
In 2003 MMI built the ACAM Midwifery and Birth Center in Concepción Chiquirichapa where over 1300 babies have been safely delivered by ACAM midwives – with many more born at home under their care. The Midwifery and Birth Center also provides a focus for MMI to fulfil its commitment to supporting traditional midwives with clinical skill training and mentoring. Alongside their traditional training the midwives learn skills such as the use of ultrasounds and taking blood pressures. A doctor visits regularly and ladies with complex needs or complications are encouraged to go to the regional state hospital, but many are still reluctant.
The LATA Foundation was first introduced to MMI in 2019 and has donated funds for basic medical equipment such as blood pressure machines, stethoscopes, foetal dopplers and nasal aspirators. In 2020 we also supported the midwives by donating towards the additional costs of PPE and hygiene procedures arising from the pandemic, via our COVID-19 Emergency Appeal. The LATA Foundation will continue to support these amazing women and contribute towards their PPE and essential cleaning products in 2021. Strict local lockdowns, which left many communities completely closed off and unable to access their crops or food markets, have led to a loss of income and increased food insecurity and malnutrition in the region. Our funds will also contribute to the purchase of rice, and protein (in the form of beans, eggs and lentils) for the midwives and mothers.
The LATA Foundation is volunteer run, and all donations go to our projects. To make a donation to support our projects, CLICK HERE.