La Salamanca Association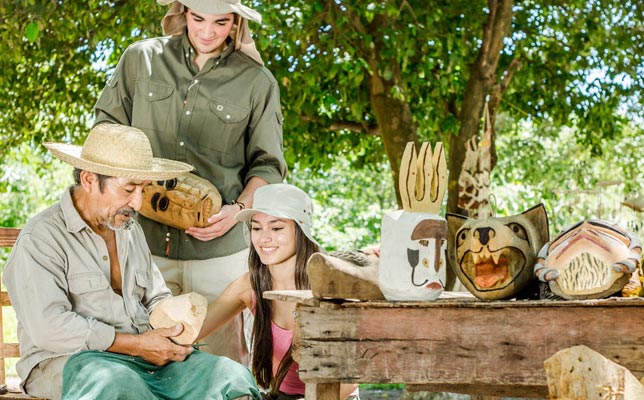 Location – Campo Blanco, Aguaray, Salta, Argentina

The Project –La Salamanca is an Association integrated by 15 people working together to preserve and strengthen the Guarani culture and to generate local employment. The majority of the members are craftswomen from the Campo Blanco community in Aguaray (Salta, Argentina). The association focuses on crafts making, preserving the Guarani culture, environmental conservation, traditional Guarani gastronomy, organic food production and community based tourism. This project aims to provide the construction materials to build a canteen named "Guaraní quincho". This,will provide a space for offering gastronomy services and a better tourist experience. The regional gastronomy is an opportunity to reunite with the food of the ancestors through the food obtained in their own community garden. The quincho was inaugurated in December 2018.
Our support – The LATA Foundation is working with the Buena Vida Foundation on different local development projects through community based tourism. We provided funds in 2016 to develop a craft centre in the Guaraní Peña Morada Community for them to offer basket weaving workshops and sell crafts made out of liana. In 2017 the funds were put towards the development of a craft centre with the aim to develop new tourism activities in the Yariguarenda Community.
In 2019 our funding will be used towards these two existing projects. In the Peña Morada community the project seeks to strengthen the community's dietary habits through workshops and the development of gastronomy services with locally sourced food. In the Yariguarenda community the project seeks to build a bird observation box/tower for visitors and the general public arriving to the region in search of endemic birds and bird watching tours in the jungle. At the end of the project it is expected to have a list of birds of the area as well as high quality images that guide visitors during the tourist experience.
How can you help? – Donate here
Further information – La Salamanca have developed a range of tourist services with activities such as: 1) regional gastronomy, 2) Workshops to elaborate chané wooden masks, 3) Basket weaving workshops in bejuco, 4) Enjoy the experiences of the Guarani culture and 5) The Arete Guazu great party.